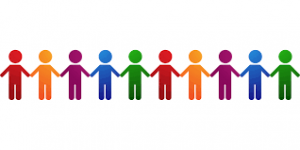 The havurah movement began in the 1960's — in part as a reaction to what its founders regarded as a hierarchichal and overly institutionalized Jewish life. Havurahs were created to encourage egalitarianism, lay leadership, and creative approaches to Jewish ritual and practice.
A haver is a friend: a havurah is a fellowship, a group of friends. Some of the havurot founded in the 1970's still exist (Havurat Shalom in Boston, for example). The recent growth of independent congregations who are unaffiliated with any established denominations has constituted something like a "second wave" in the history of havurot. Today, the National Havurah Committee (NHC) functions as a network for havurot of all kinds. As their website states, havurot are characterized "by a participatory ethos of Jewish community, in which everyone has something to teach and everyone has something to learn, and everyone has a role in creating the community."
That describes Or Olam.  Many of our activities — whatever they may be — are largely organized by members of our community. One might offer an afternoon of Jewish cooking classes at his home; another might organize a tikkun olam project, another a movie night and discussion. Rabbi Thiede leads us in prayer and provides our High Holy Day services and meets with us for Torah study, but we also focus on what we can learn about Jewishness and Judaism with and from one another.
It doesn't take being steeped in an observant background, either. It just takes an interest and a willingness to share. So if you are interested in a convivial, safe, and easy-going community without the hierarchy, politics, or stresses of institutionalized structures, let us know. Send us a note on our Contact page and we'll talk!