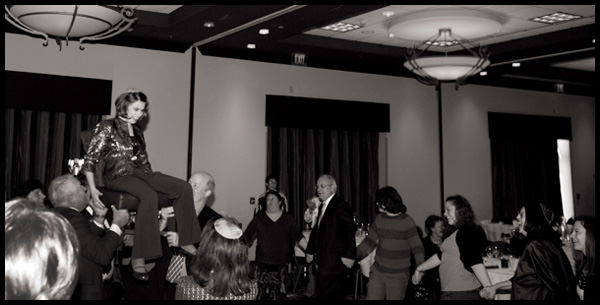 Are you looking for an officiant for your life-cycle event?
Rabbi Barbara Thiede believes in creating life cycle ceremonies that are personal, yet inclusive for everyone attending.  Planning a housewarming?  "The ceremony was beyond words. I loved every minute of it. All of my guests had such great energy and thoroughly enjoyed it."  Baby naming?  "Thank you so much for your time and guidance… We are excited, comfortable, and reassured."
Rabbi Barbara also has extensive experience working with Jewish and interfaith couples on planning commitment and wedding ceremonies.  Contact her at Rabbi.Thiede@or-olam.org for more information.
TESTIMONIALS
Many people complimented us for having such an inclusive, open wedding ceremony and I was asked many questions about the "wonderful rabbi" who performed our service. One of my closest friends told me it was so much better than the traditional weddings he had been to, in which the pastor normally gives a scripted speech and does not seem to know the couple. Our wedding was fun and exciting, and we are so happy you were there for us. ~Jamie and Katie Duncan
We did not attend Temple or church.  Would this be a problem?  Not at all.  Blessings are open to everyone.  We were able to choose which traditions to follow and what type of language we preferred.  It was intimate, familiar, and jovial all at once.  Barbara was so thorough, interested, and genuine—we could not have found a better match.  Our wedding turned out more perfect than we could have imagined.  Jason and I laughed and giggled and loved every minute of our ceremony.  Thank you, Rabbi Barbara, for being an integral part of the best day of my life!   ~Jessica & Jason Prescott, Charlotte, NC
Dear Rabbi Barbara, Mere words cannot reach our lips as to how we can thank you for the most delightful ceremony ever.  We just watched a video of the ceremony (taken by my niece and more coming) and tears streamed down our cheeks.  We are simply overwhelmed by your service and the reaction and comments from our family and friends were how refreshing, fun, innovated, loving and involved they all felt.  We are truly thankful to you!  Bless you for your kindness, inspiring spirit and commitment to your human soul and profession.   ~Mr. & Mrs. David Lovett (finally!!)
Dear Rabbi Thiede, Thank you so much for a perfect wedding ceremony.  It was everything we had imagined and we really appreciate you working with us to make our wedding day perfect!  ~Faith and Dan Saint
It really seemed like it would be a challenge to plan an interfaith ceremony that we, the officiant, and our families were comfortable with and felt was inclusive.  You, however, made this goal easily attainable and we feel lucky to have found you.  Your words really captured who we are as a couple [and] clearly resonated with our guests as well, as we received many compliments from them.  Thank you for making our wedding day so memorable.  Warmly, Laura and Sam Olesky