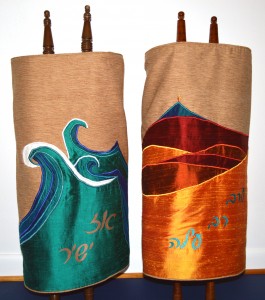 When Temple Emanu-El of Weldon, North Carolina, had to close its doors, the community gave one of its two scrolls to us.
That scroll has an extraordinary history. The many communities who knew our Torah in its youth — probably over 100 years ago — were destroyed in the Holocaust.  Somehow, fragments of their many Torahs – from Moravia, Macedonia, and Lithuania – were saved.  Later, these pieces were stitched together to make one complete scroll.
We never chant from this Torah without acknowledging those who perished in the Shoah. To read from it has been our way to honor and remember them.
Our second scroll was written by a Mizrachi scribe.  This Torah likely comes from either  Iran or Iraq.  Middle Eastern Jewish communities were the longest continuous Jewish communities in existence until the birth of Israel, when they were forced to dissolve.
So our second scroll, too, represents Jewish communities that no longer exist.  This Torah is written in one hand, by a scribe from the Middle East.
The Torah is the heart of Jewish community. We are blessed to own two such amazing scrolls.  We treasure them and the rich history they represent.