Jewish With Feeling — A Temple Or Olam Adult Education Program Ends This July 17 (1-3:30)
Rabbi Zalman opens up your heart and soul space in his well-known introduction to the Jewish Renewal movement in Jewish With Feeling. Here you will find an accessible, delightful explanation of "open-sky" Judaism; here you will learn how Jewish Renewal seeks to find ways to pray, ways to live, and ways to learn how delightful it is to be Jewish with feeling.
Read with us, meet with us, and explore. There is no charge except for the purchase of the book which is not at all expensive and can be purchased online (see urls below…).  Even if you have missed the first two sessions, you are welcome to read the book and join us for a conversation about the last two chapters.
Our time together will include a pot luck lunch, so please bring something to share.  If you have an allergy please let us all know!  Please do be aware that we are meeting at a private residence that includes two cats — although the cats will be in another room, you should know that dander and cat fur may be present in the environment.
For more information, contact Marilyn Atlas at 704-746-4499 or email her at marilynaf@aol.com . If you need help with directions, call Heidi, our host, at 704-992-1328.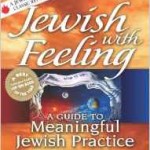 URLS for Jewish With Feeling:
http://www.amazon.com/Jewish-Feeling-Meaningful-Practice-Backgrounds/dp/158023691X
http://www.abebooks.com/servlet/SearchResults?sts=t&tn=Jewish+With+Feeling
http://www.jewishlights.com/page/product/978-1-58023-691-1