Kabbalat Shabbat and Shavuot
It is just days before Shavuot, the summer festival of arrival, reception and revelation.  At Sinai, we were given the gift of God's promise and God's law.
At this Kabbalat Shabbat service we will explore the nature of revelation and the importance of the mitzvot for creating the world we seek.  We will ask how the Holy One speaks to us, and how we must respond.
And we will sing, pray, and welcome in Shabbat, too!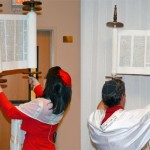 Date: June 10
Time: 7:00 p.m.
Location: McGill Baptist Church, 5300 Poplar Tent Road, Concord, NC
And Speaking of Shavuot
We are opening up our phone-in Torah Study  to a conversation about The Book of Ruth, one of the amazing and beautiful texts we study on Shavuot.  Torah study is held by free conference call at 10 am this Shabbat.  If you are interested in joining the conversation, please send a note to info@or-olam.org.