Annual Meeting – June 5
It is that time of year again, when Temple Or Olam holds its Annual Meeting.  We will be voting on our slate for the board, considering a proposed budget, and sharing our thoughts about our next fiscal year.  We'll try to keep our proceedings short and, most importantly, sweet.
We'll be meeting at McGill Baptist Church at 7 p.m. in the McCoy classroom.  Feel free to bring a noshable to share!

We look forward to seeing you then and wish everyone a wonderful Memorial Day Holiday.
Date: June 5
Time: 7:00 p.m.
Location: McGill Baptist Church, 5300 Poplar Tent Road, Concord, NC
Kabbalat Shabbat Service June 7
Please join us for our last service for the summer months.   We'll sing and pray together with our usual musical enthusiasm.  Rabbi Barbara will be offering a drash or story – more on that in our next loop.
Please bring something to share at our oneg and help us welcome Queen Shabbat with joy!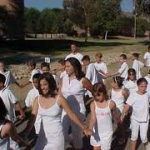 Date: June 10
Time: 7:00 p.m.
Location: McGill Baptist Church, 5300 Poplar Tent Road, Concord, NC